SCHEDULE:
Fromnovember, 23 to  december, 24
Open from Monday to Sunday, from 13h to 16h
Closed at night
CHRISTMAS HOLIDAYS
From december, 26 to december, 30
Obert 13h a 16h
Closed at night
Closed
Del dia 31 de desembre al dia 7 gener
Welcome to Restaurant Ibèric
The Restaurant Ibèric offers local (Empordà) cuisine, casserole and fish. The cuisine is Mediterranean, with fried, stewed, grilled, and local produce, such as cottage cheese from Ca la Nuri or other local products cooked in the traditional way, like mushrooms, snails, black truffle or eels from the Ter river.
The signature dishes are the Lobster noodles, Snails à la patarrellada, crayfish and all the fish stews, 'calderetes' or Lobster rice. Fish and seafood are provided by the fish markets of L'Escala and Palamos. And in winter, it is also recommended the grill, located in one of the rooms; lamb, chicken or other grilled meats.
It opened in 1978 on the initiative of Tomàs Cateura. Coming from the world of farming, on the early days, he managed the restaurant like a food house rather than a proper restaurant as we understand it now. It dispensed a very personal care, very private, and there was no carte at all. Thomas Cateura, alongside traditional dishes also introduced eclectic tastes so you could eat Toledo lizard, turtle soup, the native river crayfish or trout just to signal  a few examples.
He was also a pioneer in other ways: it was the first restaurant that was able to buy directly in the Palamós fish market, in 1992. From 2000 come into play the children of Tomàs: Enric, in the kitchen, and Gerard and David, in the dining room. The featured menu is quite similar to what had been done initially, and has always incorporated dishes borrowed from other areas thanks to the recipes handed by people from other lands. The kitchen has been following the same line from the early days but with some updates.
Following the innovation side, in the summer of 2018 we have introduced a terracotta oven in our kitchen. It is an artisan oven fueled with oak wood which gives us a taste and a very particular texture to some elaborations. Although it is ideal for cooking meats, we also make other dishes that allow a different cooking way and it returns us to the origins of how our ancestors cooked.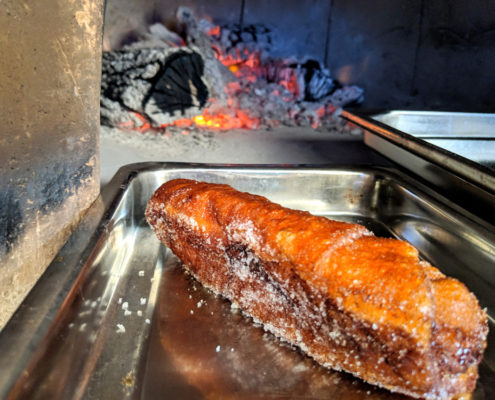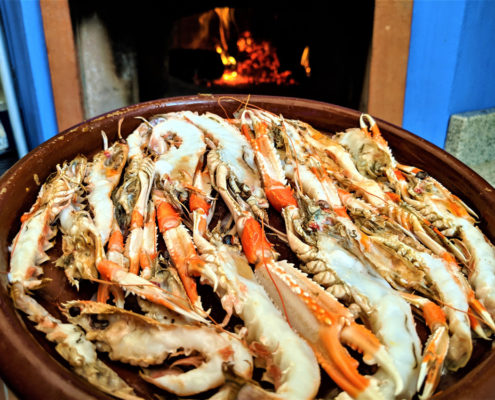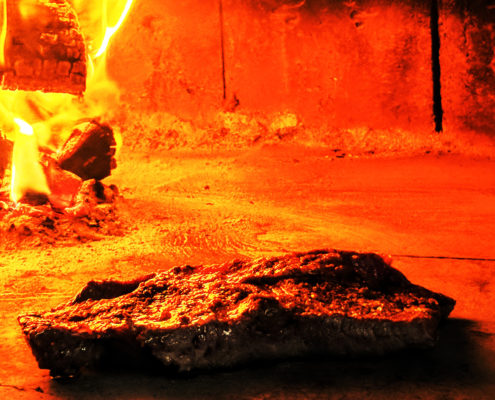 Our dishes are made with quality products like fish, we buy in the fish markets in Palamós and L'Escala.
We advise you to book a table by phone (972 75 71 08) or using our online reservation form.
We serve bruch (reservation required) on our summer terrace. Ask for information.
Palamós Schrimp Guarantee Brand
Palamós Schrimp Guarantee Brand certifies that Restaurant Ibèric serves fresh shrimp Aristeus antennatus fished by registered boats in the Palamos Fishermen's Guild qualifying for the Guarantee Brand. The first sale must have been done in the Palamos Fishermen's Guild auction, where we buy directly, without intermediaries.